GL – GRAND LOUVRE (WALKING TOUR)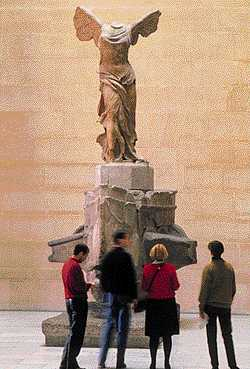 Our famous Grand Louvre WALKING TOUR begins with a stroll through the commercial area of the Louvre museum. The visit continues inside the museum where our guide presents various areas such as the medieval fortress, the modern pyramid, the Egyptian department and the most reputed works of art such as the Mona Lisa by Leonardo da Vinci.
This tour does not operate on French public holidays, ie in late 2003: Saturday 1st November, Thursday 25th December ; in 2004: Thursday 1st January, Monday 12th April, Saturday 1st & 8 May, Thursday 20th May, Monday 31st May, Wednesday 14th July.
Languages available on following operational days
ENGLISH, SPANISH & ITALIAN: at every departure Monday, Wednesday, Thursday, Friday, Saturday)
FRENCH: Wednesday & Saturday.
GERMAN: Saturday
This tour does not operate on French bank holidays
Possibility to purchase a full day tour of Paris at a discounted price with the combination of this afternoon tour "GL" with morning tour "PH" Paris Historic: see details on tour ref. "PHGL".
Tour/Package Length: 3 Hours
Winter 2003/04
Season Dates:
11/01/03 – 03/31/04
Days of the Week:
Monday, Wednesday, Thursday, Friday, Saturday
Times of the Day:
2.45 PM
Adult Fare:
€ 38.00
Child Fare:
€ 19.00
Summer 2004
Season Dates:
04/01/04 – 10/31/04
Days of the Week:
Monday, Wednesday, Thursday, Friday, Saturday
Times of the Day:
2.45 PM
Adult Fare:
€ 38.00
Child Fare:
€ 19.00
Summer 2004
Season Dates:
04/01/04 – 10/31/04
Days of the Week:
Monday, Wednesday, Thursday, Friday, Saturday
Times of the Day:
2.45 PM
Adult Fare:
€ 38.00
Child Fare:
€ 19.00